WHAT'S THE POINT OF THIS BLOG? WHAT ARE WE TRYING TO DO? AND HOW DID THOMAS WAYNE FROM BATMAN BEGINS ENCOURAGE THIS BLOG?
"And why do we fall, Bruce? So we can learn to pick ourselves up." – Thomas Wayne in Batman Begins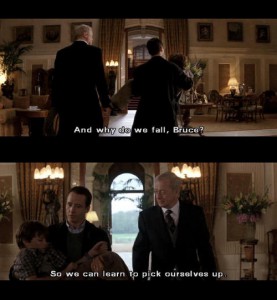 Although I have worked to solve complex business problems and been part of top initiatives at global clients, one challenge has always been actually explaining what I do for work to my closest friends and family who are not in the same profession.
I believe I have come up with a formula that will finally bridge the gap between those who have and those who haven't made project management their profession. Instead of applying project management principles to the world and politics, I will attempt to apply the frameworks to science fiction and fantasy. By using examples from these genres, perhaps I can finally drive understanding of these ideas and concepts.
Over the course of nearly a decade, I've held so many different titles and been asked to focus on such different aspects of a project that it's been a constant struggle to explain different roles that I have held while at the same company or with the same client without confusing the hell out of people.
My track record in trying to explain what project management means in the context of my profession has been successful a few times, but only when the content and context of my role has changed very little over the course of several months. Generally, people just stopped listening — but I'm hoping to change that with this series of blogs.
Together with my readers I hope to lift the lid on the black box that is Project Management — and serve to educate and bridge the gap between those who are not in the industry. By introducing the basic and advanced concepts of Project Management through the lens of television, movies, and other facets of geek culture I hope to create understanding — and I am encouraged by my progress so far.
Legal
This site makes use of graphical images to illustrate some concepts — these images remain under copyright of their respective owners. Acknowledgement is in the form of a link to the owner's website provided on the same page as the image.
Explanations of services, products, or other items of interest may sometimes be quoted from the provider's website — this is used to best inform users of and represent the service, product, or item of interest. No preferential treatment or discrimination takes place; this is simply a database of useful information and resources used to serve the community at large.
This site also uses information from Wikipedia, which is available under this license: Creative Commons – Attribution-Share Alike 3.0 Unported
We hereby apply this same license to any information on this site that originates from Wikipedia (this will be noted within a record as sourced from Wikipedia).